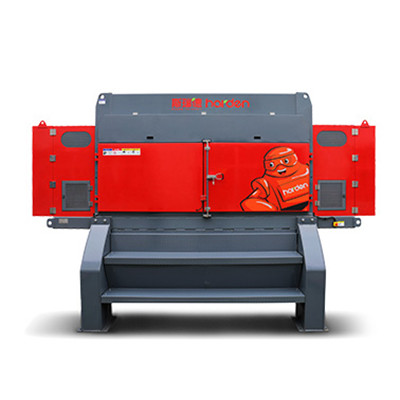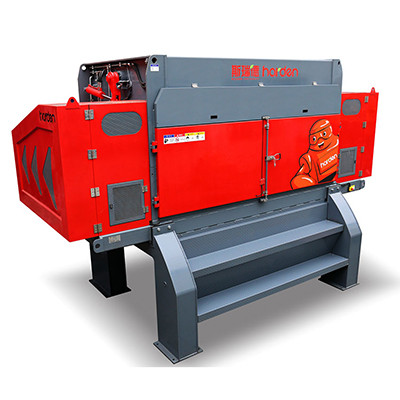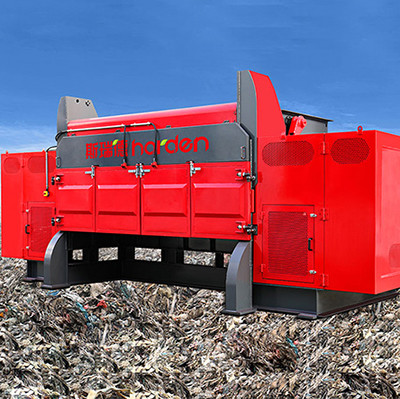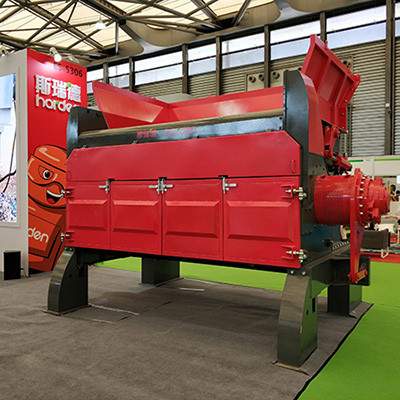 Harden® Single Shaft Shredder SM Series
Description
Harden® Single Shaft Shredder SM Series

Harden® SM Series large-scale single shaft shredder integrates a variety of patented technologies such as intelligent built-in circular arc pressing, gap shearing, patented blade and shaft assembly design, and rapid clearance adjustment. Based on advanced European design and concepts, Harden® has been focusing on providing equipment with large capacity, lower operating costs, less maintenance time, safer and more user-friendly.
Harden® has rich experiences in single-shaft shredder, with specialized parameters (different parameter configuration for torque, speed, action program, and blades) for different shredding materials, processes with excellent shredding performance.
Features of Harden® Single Shaft Shredder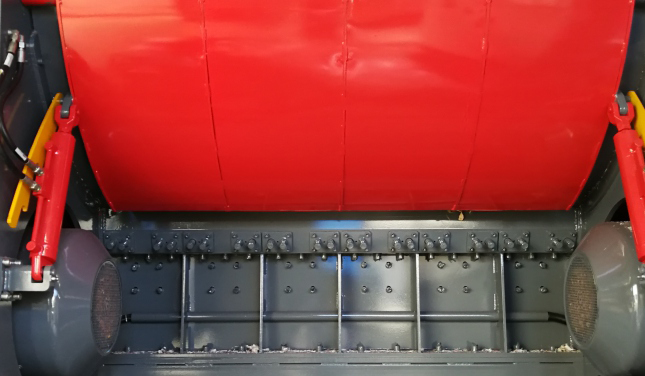 External Hydraulic Maintenance Door
The maintenance door is used for blade replacement, removal of unbreakable objects and knife box cleaning, enjoys advantages as below:
Safety: Hydraulic safety valve + double mechanical safety support.
Easy maintenance: Open operating space + maintenance pedal, easy to access maintenance parts such as blade and shaft assembly.
Time & power saving: hydraulic drive, save time and power.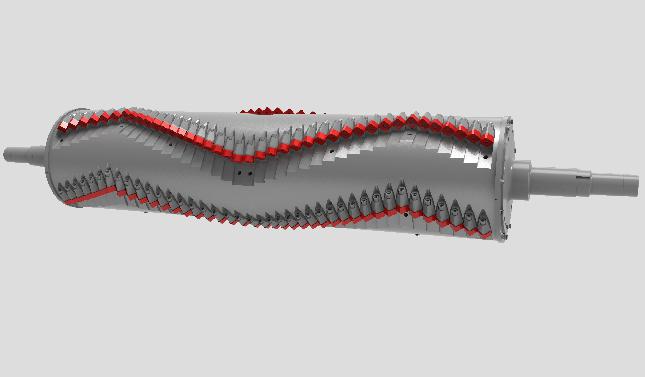 Patented Structure of Efficient Close-packed Blade and Shaft Assembly
To meet the needs of large-volume production for small materials, Harden® has developed a patented technology of close-packed blade and shaft assembly, which increase the cutting efficiency by 50%.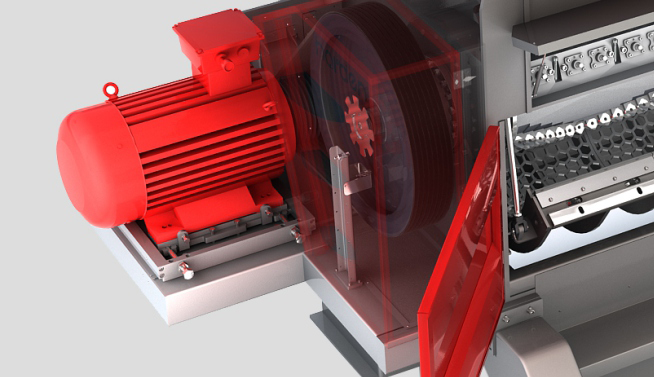 Efficient and Reliable Power Transmission
Excellent power performance bases on high efficient belt transmission and stable imported planetary reducer, results in:
Combined belt: high transmission power, stable operation
Interchangeability: standardized accessories, high interchangeability, short cycle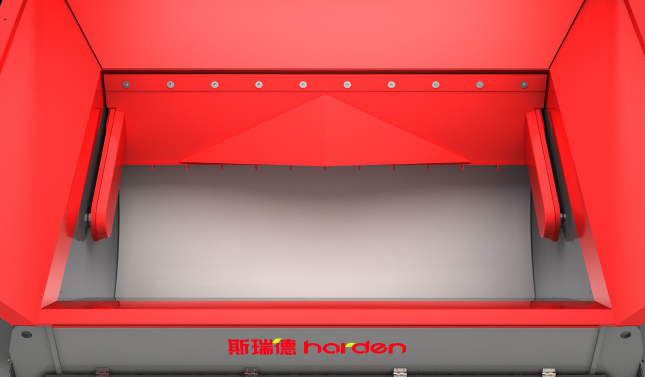 Patented Technology of Intelligent Built-in Arc Pressing
Pressing technology is very important for single-shaft shredder. Harden® enjoys advantages as below:
Intelligent adjustment of the pressing speed according to the spindle load
Intelligently pressing operation based on material condition
With a material distribution structure, maximize the utilization of the cutter shaft.
Anti-stuck devices installed at the front and back to avoid Presser getting stuck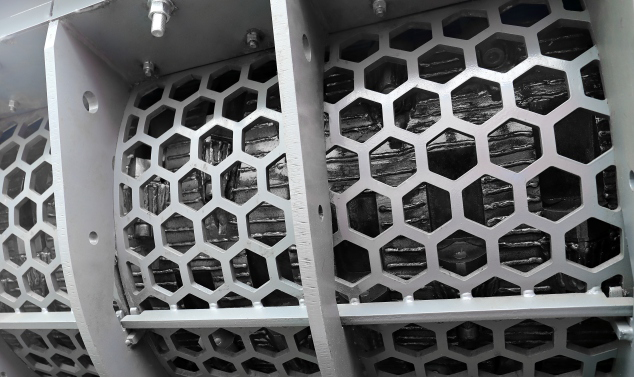 Special Hexagonal Screen for Uniform Size of Crushing Particles
The single-shaft crusher is equipped with a screen to control the sizes of flakes, advantages include:
Hydraulic drive, saving time and power
Multi-piece screen structure, easy installation and disassembly
Hexagonal screen mesh maximizes the material passing area.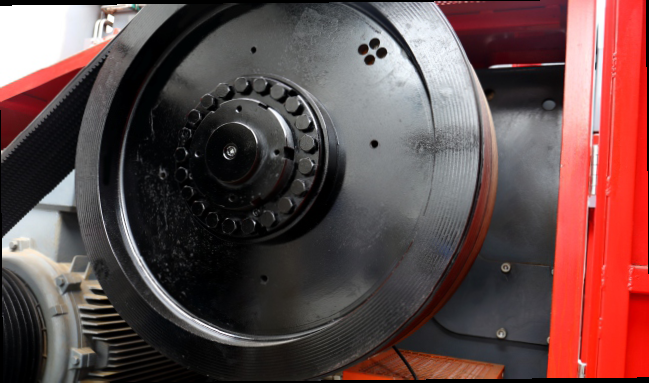 Harden® single-shaft Shredder has passed CE safety certification and has a variety of safety functions:
Automatic protection for foreign objects: Self-reset safety clutch cooperates with high-precision sensor, once the unbreakable object occurs, the safety clutch can be automatically disengaged and shut down for protection.
Safety switches: All doors are equipped with safety switches, which are interlocked with the spindle. Once opened, equipment stops operation.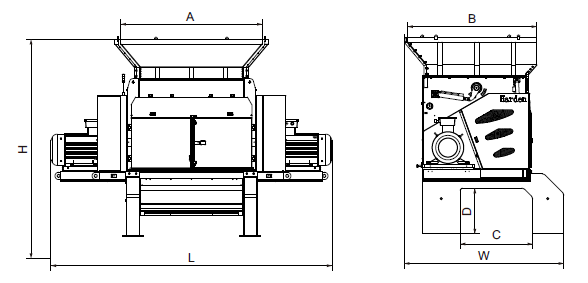 SM2200R/SM3000R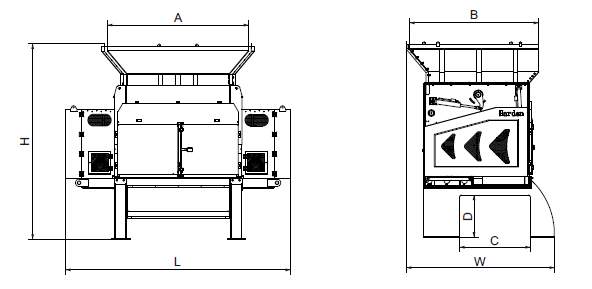 SM2200/SM3000

Model

SM2200


SM3000

SM3000R

Motor Power (KW)

132*2/160*2

200*2

250*2

Stock Pusher Power (KW)

15

15

15

Size of Cutting Chamber (AxB)(mm)

1700*2200

1700*3000

1700*3000

Machine Dimension (LxWxH)(mm)

4380*3000*2450

5400*3000*2450

6310*2630*3250

4750*2850*3330

Capacity (Ton/Hour)

8~18

15~30

20~35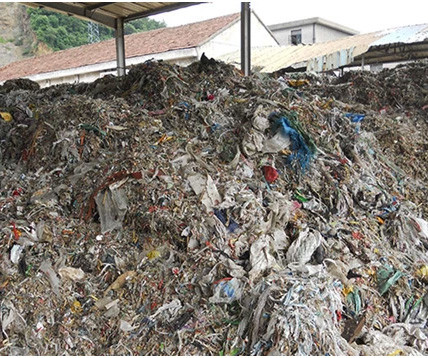 Clothes, Leather Scrap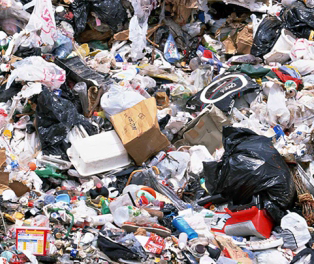 Municipal Waste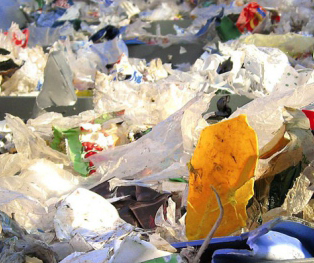 RDF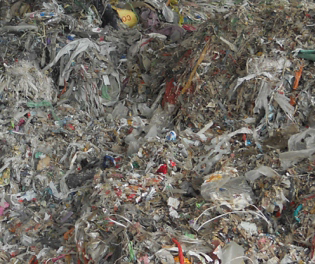 Paper Mill Waste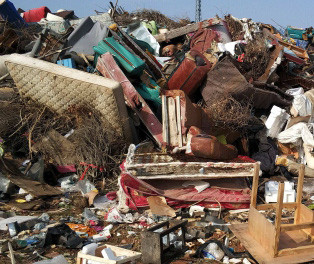 Bulky Waste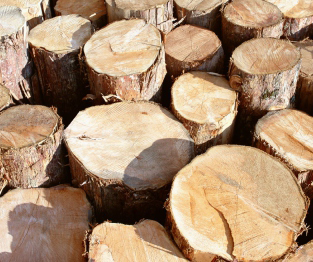 Wooden Stakes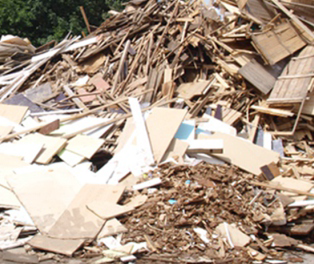 Construction Form-work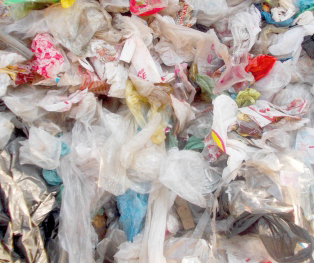 Plastics and Films