A case study of a system to produce alternative fuels from industrial waste and bulky waste in China
Share
publisher

Harden Machinery Ltd.
Issue Time

2023/07/17
Summary
Solid waste is used, and the final discharge is SRF alternative fuel.
Solid waste is used, and the final discharge is SRF alternative fuel.
In 2023, the integrated alternative fuel preparation system for industrial waste and bulky waste in Guangdong, China, has been officially put into operation. The project can dispose of 100,000 tons of industrial waste and 40,000 tons of large waste every year. Har Den's SRF/RDF alternative fuel preparation technology is used to effectively recycle industrial waste such as waste cloth and leather, as well as large waste such as sofa and mattress generated in local light industrial parks, and prepare SRF/RDF alternative fuel to help protect the ecological environment and realize the maximum value increase of waste in value.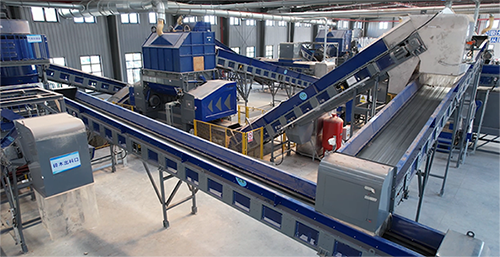 Project address: Guangdong, China
Processing raw materials: industrial waste, bulky waste
Processing capacity: 10W/T+4W/T
Finished particle size: ≤40mm
Environmental protection equipment used: Single Shaft Shredder,Double Shaft Shredder, Four Shaft Shredder,Wind Shifter, magnetic separator,forming machine, intelligent conveyor, dust collector
With more than 10 years of experience in solid waste treatment, Har Den has carried out innovative research and development around "solid waste recycling". Through "secondary crushing, magnetic separation, wind separation, molding" and other processes, it can extract and process high-calorific value combustible waste from complex and diverse wastes into high-calorific value SRF alternative fuel. The calorific value of combustion is 4800-5200CAL, and the water content is less than 5%, which meets the combustion needs of most energy enterprises using coal and natural gas in the world.